Free Quote
Getting a quote from The Carpet Cleaner Man
The Carpet Cleaner Man is a reliable, fully trained & insured carpet, hard floor and upholstery cleaning specialist in Dundee, Angus and Aberdeenshire. The carpet cleaner man is a long standing member of the approved carpet cleaners alliance, The Federation of small business. We are regulated by Trading standards and are members of their Angus Reputable Trader scheme and also are members of Expert Trades.
When you want your carpets cleaned right or your hard floors stripped and resealed, when you want your sofa and chairs cleaned correctly by someone who has taken the time to learn the right techniques and methods, when you simply want somebody to come and do the job right, first time - fill out our quotation request form and let us do the work for you.
To get any of our cleaning Services in Dundee, Angus and Aberdeenshire please call:0800 246 1091 or fill out our quote request form.
Why get your carpets cleaned?
There are a multitude of reasons that we decide to get our carpets cleaned:
Mucky pups
Messy children
Sicky babies
Dirty shoes
Drink and food spills
Visitors coming over
Or maybe you just moved that rug and noticed how clean it looks underneath
Sometimes the reason is even a little more personal, but whatever the reason, it's nothing that we haven't seen or dealt with before. The Carpet Cleaner Man is fully trained in all aspects of Carpet Cleaning and so has the best equipment and products for dealing with any of these issues!
Take a look at some of our before and after pictures and you can see some of our results for yourself!
Some before and after carpet cleaning pictures, Taken by our team members & customers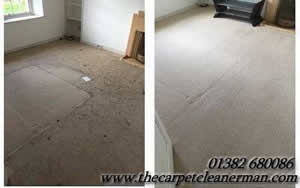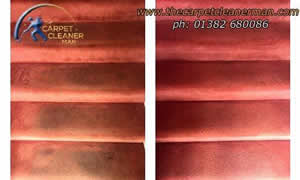 We're so sure that our cleaning services will amaze you and you'll notice the difference, that we are happy to offer a money back guarantee. Fill in your details and get booked in today!
For any of our carpet cleaning services in Dundee, Hard floor cleaning services in Dundee or our Dundee upholstery cleaning services:

For any of our carpet cleaning services in Angus, Hard floor cleaning services in Angus or our Angus upholstery cleaning services:

For any of our carpet cleaning services in Aberdeenshire, Hard floor cleaning services in Aberdeenshire or our Aberdeenshire upholstery cleaning services: